Beach Bungalow is a rustic two room cottage with everything you need for a perfect vacation getaway.
The entire front of the Beach Bungalow is a raised , screened porch where the breezes are constant and the sounds and sights are spectacular. Eat. Sleep. Relax. Watch the wild horses frolic. This is where you will spend most of your "at home" time. You can close off the barn like doors if you like an air conditioned environment or leave them open around the clock and let the trade winds provide natural cooling. You are only 100 feet from the water!
You will sleep comfortably in a bed made with luxurious cotton sheets -- and amazing views of the beach beyond. Clothes storage is limited but you don't need a lot here. The style echoes the mood in Vieques -- relaxed, simple. The bathroom comes stocked with thirsty towels and a powerful shower. There's even a washer and dryer!
The kitchen is equipped for no-fuss island cooking. Coffee maker, blender, toaster & micro are all here. Pick up fresh fish and grill it right outside your door. Dine in or out. The choices are plentiful.
The beach is spectacular. It is that simple. Hang your hammock between the palms and listen to the surf. Snorkel and discover a magical undersea world. Walk east along the beach and discover private coves. Walk west and collect a treasure trove of sea glass and shells. Watch the sun dissappear and the stars come out.
Say "Buenos Dias" to the rest of your life!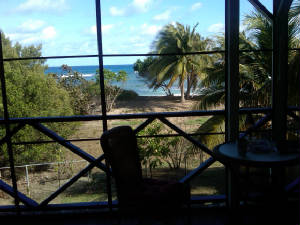 A Private Beach Retreat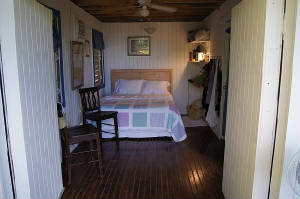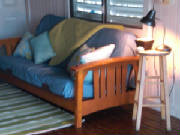 Particulars:
Sleeps 2-4 ( using futon)
Includes towels & linens
Includes beach gear: folding beach chairs, beach umbrella, box & bag cooler, snorkeling gear, beach towels
Fully equipped kitchen: dishes, glasses, silverware, dish towels, cloth napkins, pots & pans, wine opener, can opener, coffee maker, toaster, blender
Ceiling fans throughout. Air conditioning in bedroom
Outdoor rinse shower
DVD Player
IPOD dock with speakers
Nearest shopping: Isabell II about 2 miles
Rates:
Peak: December 15 - April 30
$1450/ week full week minimum
$ 245 for each extra night
Note: $400/week additional for Christmas Week and President's Week
Off - Peak : May 1 - Dec 14
$900/ week
$150/night -- Four night minimum